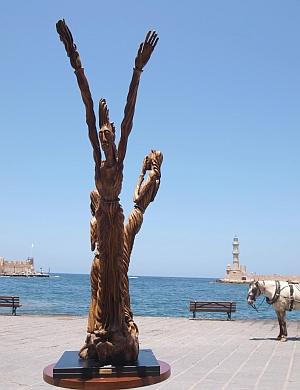 Giorgos Psaradelis was born in Chania of Crete. Today, he lives in Heraklion. He is graduate of the Top Faculty of Shipmasters and the Faculty of Graphic Arts "OMIROS", being his professor the painter Antonis Apergi.
He attended courses of hagiography and mosaic for two years in the laboratory of Saint Titou in Heraklion and seminars of wood carving in the University of Heraklion.
Today he attends courses inthe open popular University of Chania on the subject "Arts - Letters - Culture".
His work can be found in the White House of Washington (USA), in the Bank of Investments Corporate Bank Intl. in Washington, in the installations of the newspaper "National Disseminator" in New York (USA), in the Embassy of Iraq, at www.gallery.gr and in the countries of Italy, England, Germany, Cyprus and Greece as well as in many Greek and foreign collectors.
Accolades:
- Award in the age of 7 years old from the actor Anthony Quinn in a Cretan painting competition
- Award of Pan-Hellenic sculptural competition Municipality of Agios Nikolaos 2005 and 2006